Make up mirrors
Make up mirrors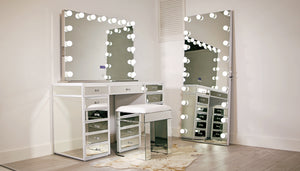 Make up mirrors with lighting
As a make-up artist, hairdresser or makeup artist, it is important to show your customers their end result. Of course you don't do that in a telephone screen or a small, old mirror. Your customers deserve the best, so we sell the most beautiful and most convenient makeup mirrors at Luxury Palace, including Make Up mirrors with lighting. In our wide range of makeup mirrors you will definitely find what you are looking for. For example, take the mini glam mirror, in white or in black. This standing makeup mirror has dimmable LED lamps that can be set in three different atmospheric lights; Daylight, warm light and white light. The LED lighting in this LED Make Up mirror is operable by means of a touchscreen.
Various make-up mirrors
You can also come to us for a somewhat larger make-up mirror. Then take the Hollywood mirror XL with lighting, available in white or without color. This standing table mirror is no less than 159 centimeters long and 81 centimeters wide, with dimmable LED lamps with white light. You can also come to us if you want a somewhat smaller makeup mirror. For example a Make Up mirror for your handbag. For example, you can choose from a standing table mirror with LED lighting, which works on batteries and whose one side is a normal mirror and the other side a Make Up mirror 5x magnifying.
Enlarge mirror for precision work
In addition, we have a standing makeup enable mirror, which has a normal makeup mirror on one side and a 10x magnifying mirror on the other side. The last choice for a small makeup mirror is a dark-pink standing enlarged mirror. Of this last Make Up mirror, one side is a 3x magnifying mirror and the other side a normal mirror. Such a small makeup mirror is perfect for when you are traveling! Looking for a magnifying mirror with light, a magnifying mirror of 15x or even a 20x magnifying mirror? View our full range for all options.
Luxury Palace's assortment
At Luxury Palace you cannot only buy Make Up mirrors, but much more make up accessories. For example, look at our many different Hollywood Make Up tables and hairdressing tables, with lots of storage space, holders for hair dryers and hair straighteners and dimmable LED lighting. We also have the pups and stools that belong to the hood tables, of course! Or maybe you are interested in a makeup brush holder / belt, or even the makeup brushes themselves. A professional make-up artist chair, LED lamps for your dressing table, makeup suitcase or makeup mirror, makeup organs, a large blossom of 250 centimeters to put in your salon for a harmonious and calm atmosphere, or a lamp with pink ostrich feathers and a Golden leg of 175 centimeters, for if you really want to convey that luxury atmosphere to your customers, or maybe even in your own house. Create a real Hollywood atmosphere in your salon and let your customers feel like stars.
What else can you go to Luxury Palace?
With us you will always have a delivery time of only 3 working days. Shipping is also free from € 345 euros. So you get free shipping with all makeup tables and hair tables, or for example with those luxurious ostrich feather lamp or the large blossom tree of 250 centimeters. Also look in our webshop for an illuminated makeup mirror, cosmetics mirror LED, a collapsible makeup mirror or just a lamp for makeup mirrors. A beautiful wall Make up mirror with lighting on the wall? View our offer and choose your favorite Make Up mirrors!
Outstanding service
Do you find it a little too intense to immediately buy an entire dressing table from us, or to pick up all those accessories for an event? Don't worry, you can rent a dressing table from us, or even a whole backstage set up. We make this set up all for you in a complete Hollywood atmosphere. If you have any questions about the rates of renting a full backstage set up in Hollywood atmosphere or just from a dressing table, you can send us an email via sales@luxurypalace.nl. Of course you can also contact us for questions and extra information about mirrors, dressing tables and all accessories in our range.