spiegelglas
Tables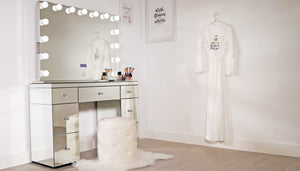 Professional make-up tables
You want a professional, clean look in your workspace, of course. No messy or chaotic-looking space. This includes a clean, clean barbershop table. Chapels, however, can quickly look messy, with all the make up, brushes and other accessories on them. So you might want a minimalist make up table with lots of drawers for storage. We at Luxury Palace therefore have the most beautiful and practical make up tables to keep your workplace clean and tidy. Looking for a Hollywood coffee table with lights? Then we offer you the choice of beautiful luxury coffee tables!
Choose the best make up table
When it comes to a Hollywood coffee table, you can choose from a wide selection of make-up tables. The Backstage Vanity, for example. It is available in black, white, silver, pink gold, gold and blush pink, the Crystal White and Crystal Pink and the white La Cinderella table. So whether you're looking for a white barbecue table, a pink barbecue table, a silver barbecue table, a black barbecue table, or even a barbecue table for your child, at Luxury Palace you'll find what you need to finish your workspace completely.
Looking for a coffee table with lights?
You will have no trouble with us finding a coffee table with a mirror and a light. All our make up tables have both a mirror and lighting. Not only do we have enough choice if you are looking for a make up table with mirror and light, but also drawers to store your makeup, your hair care products and your makeup brushes in. This way you can easily keep your toilet table neat and empty, with the Backstage Vanity also a holder in the coffee table for your hairdryer, styling brush or hairbrush. The Backstage Vanity also has dim LED lighting, 2 USB ports and a built-in stop switch and a large drawer with removable charging boxes.
More coffee tables with mirror
Also our Crystal Pink make up table has a USB port and a stop contact on the side of the mirror, dim LED lamps, two large drawers and the lamps are on and off by means of a touchscreen. Like all our other coffee tables, La Cinderella and La Cinderella XL are equipped with dim LED lamps and USB ports and a stop switch on the side of the mirror. The La Cinderella and the La Cinderella XL make-up tables, however, also have a touch screen on/off button for the lamps, the La Cinderella has two large drawers and the La Cinderella XL but preferably seven drawers.
What else do we have to offer at Luxury Palace?
Our products will usually be delivered within just three working days. It is also available free of charge from $345. This does not only apply to our coffee tables, because in addition to our luxury make-up tables, we also sell all the accessories. We have several professional fishing chairs or, of course, a fishing table with a mirror. But also stools and chairs for the haircuts, LED lamps for the haircuts, a make-up wooden table, a mirror for a make-up table of various sizes, make-up suitcases in different colors, a make-up brush holder/belt, make-up brush sets and make-up brush cleaners.
For the real barbecue lover
For someone who cannot get enough of all this luxury we have besides the beautiful Crystal White and Crystal Pink make up tables also various other tables. A barbecue table for the little ones, a modern barbecue table, a wooden barbecue table, a barbecue table with a stool and even a barbecue table without a mirror, if you like. Choose the most beautiful make up table with mirror, a toilet seat with drawers or, of course, a coffee table that wouldn't go wrong in Hollywood. So to buy the best barbecue table, you have to be at Luxury Palace. We'll deliver the coffee table you need. Whether it's an adult barbecue table, a teenage barbecue table, or children's barbecue table.
Excellent service
If you're looking for a backstage set up to rent for an event, or might want to rent a Hollywood dressing table instead of buying, then you've come to the right place! With us you can have a complete Hollywood backstage set made up. For booking or for questions about the rental rates, you can send an e-mail to sales@luxurypalace.nl.