Make up organizers
Make up organizers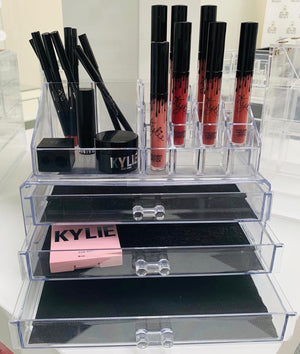 The best Buy Make Up Organizer
You naturally love your make-up, so that your workplace or bathroom is not messy. The best solution for tidying your Make Up is of course with a Make Up Organizer. Where can you find good and Cheap Make Up Organizer To keep your makeup safe? At Luxury Palace of course! With us you will find one Make Up Organizer for a drawer, a Rotary Make Up Organizer for your desk or dressing table, a Make Up Organizer in the Great or a smaller, for if you don't Large Make Up Organizer can be lost. Do you prefer one Cosmetics Organizer With a simple design, for that neat and tidy atmosphere? Then you have to be with us! Do you prefer to order you Make Up Organizer Online? You buy Make Up Organizer than in our shop!
Our wide range
You are in the right place for one Make Up Organizer to buy. Take a look through our collection and maybe you will find exactly the Brush Organizer or the Make Up Organizer from Glass That you want. Do not get lost in all those choices, use our handy search function to find exactly what you are looking for! We have both a small and Large Make Up Organizer, glass or acrylic, with drawers and / or boxes. This way you will never get a storage space with Luxury Palace. Right away Make Up Tray Organizer take every drawer to get into one Drawer Organizer for your Make Up. Are you looking for a rotating makeup organizer or are interested in one Bo Make Up Organizer? In our webshop you can easily order the nicest Organizers online!
Make up bag Organizer
Are you a professional make-up artist or Make Up Artist? Then you might be looking for a handy makeup brush belt. This is a very handy one Make up brushes organizer To have, because so your brushes are organized and you always have them at hand. Never lose your makeup brushes and offer your customers a peaceful atmosphere. It is of course very nice to have a calm workplace for yourself. Of course you can also opt for one Make Up Organizer Bag or a super handy Rotary Make Up Organizer!
The wide assortment of Luxury Palace
At Luxury Palace we sell much more than just make up organizers and bags. You can come to us for a lot of other Make Up accessories. For example, take a look at our website if you are looking for products such as Hollywood hair tables with mirrors and LED lighting, makeup suitcases, both large and small makeup mirrors and mirrors and makeup brushes. For some more luxurious products you can see our 250 centimeters high blossom tree. This is perfect in your salon and brings a harmonious atmosphere.
More luxury products at Luxury Palace
If that huge blossom tree is not enough luxury for you, Luxury Palace has many more options to choose from. Don't you settle for a normal dressing table? Then take a very luxurious dressing table with more than enough storage space, a power outlet and USB port, an illuminated mirror and, believe it or not, a touchscreen! Take a look around our site and discover the pure luxury of Luxury Palace. Consider one Make Up Organizer from gold! 
Quickly place your order on our site
We do our best to offer you the best possible service. This includes fast delivery time, low shipping costs and friendly customer service. If you spend more than 345 euros with Make Up accessories you get free shipping. We will always ensure a short delivery time of just 3 working days. Whether you are looking for one Acrylic Make Up Organizer or would rather look at one Make Up Organizer Who Cheap is. With us you will always find what you are looking for.
What else do we have to offer you?
Do you want to try one of our Hollywood hair tables without buying it directly? Then you can just rent it with us. Do you organize an event and do you need a backstage set up? We can also arrange this for you. Rent a full backstage set up with us. We come together for you in a complete Hollywood atmosphere. So don't worry about building that set up, we are happy to help you with it! Do you have any questions about renting a backstage set up or a dressing table? Or do you want to know more about Make Up Organizers? Then feel free to send us an e-mail via sales@luxurypalace.nl And we are happy to help you further.