A coffee table: the place for your daily beauty routine
A coffee table: the place for your daily beauty routine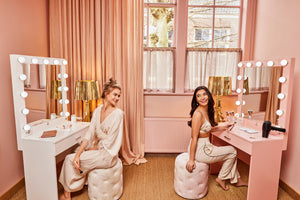 Almost every woman uses make up. One more than the other. A private place in the house where you can store your make up, skin care and styling tools and where you can also prepare yourself for a new day, that is the dream of every beauty lover. What completes a place like this? A barbecue table.
What's a barbecue?
Table, makeup, toilet seat. It often means the same thing, namely a furniture with mirrors and drawers to store your beauty products or toiletries and put on your skin care, make up and/or hair. in the morning when you wake up and want to start the day or in the evening to prepare you for your sleep or perhaps for a party. With a barbecue table you create a beauty experience at home and your beauty ritual becomes truly glamorous.
Why a barbecue?
Do you like a clean room or are you always looking for your favorite make-up or beauty products? Then you have a good reason for buying a barbecue table. With a coffee table you create a place where you can store all your beauty products and when you organize and divide this well, you can quickly find the right products. Besides the fact that a coffee table is a practical furniture, it is also a trendy eyecatcher for in your interior or the place where you can withdraw for the necessary me-time.
Tips for buying the right barbecue table for you
A coffee table is available in different styles, sizes, materials, colours and with many different (futuristic) functionalities. So there is something for everyone. You want to buy a coffee table, but you can't see the forest through the trees anymore. The following tips will help you make a choice.
1. Choose the right place

There are some important questions you need to ask yourself. What room do you want to put the coffee table in? Where do you like to retire to? How much room do you have for a coffee table? What is the style of the space where the table comes and fits the coffee table with your current interior? So is our Hollywood Backstage Vanity available in white, black silver and pink, but we also have glass capsules
2. Sufficient storage space
Another important question, perhaps the most important, is the amount of storage space you need. If you have an awful lot of beauty products, a one-drawer coffee table is not the right table for you. Then go for a table with several drawers, so that you also have room for future purchases. The coffee tables from our Glam Queen Collection have, for example, 13 drawers.
3. Multi-functional
Are you looking for a coffee table where you can really create a beauty experience at home and have more than just a good mirror and enough storage space? At Luxury Palace all Lighting capsbuilt-in plug-ins and USB ports, but the Glam Queen caps go a step further with speakers on both sides and a bluetooth system. This allows you to listen to your favorite music while preparing, which gives your daily beauty routine an extra boost.
Why a coffee table with lights?
If you love make up, you know that good light is crucial. In the wrong light, you can wear your make up wrong or use too much makeup, and of course you don't want that. In addition, a coffee table with light really gives a glamorous Hollywood feel and you always have enough light, even on dark days or in the evening.